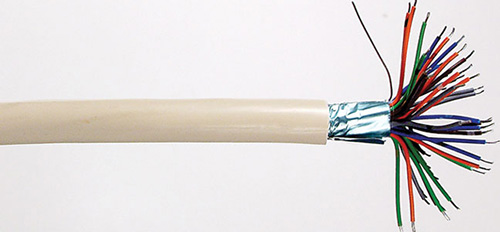 What should you know when purchase 20 pair telephone cable?
Only you have a detailed knowledge of 20 pair cable, you can buy the right cable. What should you know when buy 20 pair copper cable? The highest operating temperature of 20 pair telephone cable is a important point. You use 20 pair cable under different situations will takes different time. The 20 pair telephone cable will generate heat in the work, which will make the cable temperature higher. So when buying 20 pair cable, it's important to note maximum temperature that cable can withstanding when working. Please must determine the 20 pair telephone cable's maximum temperature before buying. So as to prevent 20 pair cables unable to use after purchase, which is very different from their working capacity. If you don't know what 20 pair telephone cable type you need, just contact HDC. Please feel free leave your requirement about 20 pair cable, we must send you a cheap and competitive cable price.  sales@huadonginstrumentcable.com

HDC 20 pair cable manufacturers
Where to buy cheap 20 pair cable?
Huadong is a professional 20 pair cable manufacturer and supplier from China. Except 20 pair telephone cable, there are a lot of other size cables. Such as 40 pair cable, 48 pair cable, 50 pair cable and so on. And you can buy other cables in HUADONG. Such as rubber cabtyre cable, welding cable, H07RN-F cable and so on. Not only the cable type is complete, but also the quality is superior. In addition, if you have any questions about 20 pair telephone cable or other cables, welcome you contact us. We must give you a perfect and satisfying answer. Of course, as long as you buy 20 pair telephone cable in HDC, you can get the high quality and low price. Furthermore, as a responsible 20 pair telephone cable manufacturer, Huadong will offer you a perfect after-sales service. So please feel free to choose HUADONG. Look forward to a pleasant cooperation with you!

Cable package and transportation: Huadong professional will supervise the production process to ensure the quality of shielded instrument cable. In addition, during the transportation, our staff will be very careful. We will check rigidly instrumentation cable package before loading.  sales@huadonginstrumentcable.com


Our customers: Huadong is one the most professional instrumentation cable suppliers from China. Now, more and more customers choose us. They trust that HDC sell the best instrument cables.


Send us your inquiry at any time please!